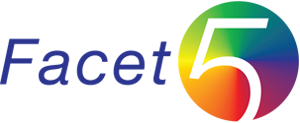 Facet5 is a measure of personality.
At Facet5 we are passionate about personality and development. We believe when you provide individuals with a way of understanding their personality, using a trusted model and easy to use language, they can begin to realise their full potential.
Facet5 supports this understanding through measuring how people differ in their behaviour, motivations, attitudes and preferred ways of working, increasing self-awareness and providing a real appreciation of just what they are capable of.
Our Solutions
While the individual sits at the heart of what we do, we also work with
organisations worldwide to support them in realising the very best from their people with our range of tailorable solutions.
Talent Assessment & Selection
Personality driven & holistic talent development
Individual Development
Meaningful personal development & self-awareness
Team Development
We support teams on their individual development journey
Leadership Development
We enable leaders, at all levels, to realise their potential
Analytics & Integration
Informing business decision with robust personality data
"The most insightful personal development conversation
I have had in the last 20 years."
GM, Strategy
The Facet5 Product Suite – Taking Insights to Action
The insights offered by Facet5 extends beyond the initial profile to a comprehensive range of products that support increased self-awareness and personal development. Our powerful range of reports ensure that robust data becomes meaningful insights, leading to positive impact
Client stories from across the globe
Our clients span the globe. They are a true reflection of Facet5's universal relevance; the insights Facet5 offer are as meaningful in Thailand as they are in Poland.
Nelt – Using Facet5 for Career Coaching conversations
Clive Bartlett
2022-09-23T11:34:15+00:00
Coca-Cola HBC Poland – Strategic People Development
Clive Bartlett
2021-02-16T11:03:25+00:00
Samsung: In Pursuit of Global Excellence
Clive Bartlett
2021-01-25T15:45:06+00:00