Our mission is to turn reliable data into meaningful insights that are not only presented in the most practical way, but which can also be applied and used in the easiest way possible.
What we measure – a little detail
Facet5 identifies the 5 major building blocks of personality – broken down into 13 sub-factors.
We all have varying amounts of each factor within our personalities; the amount (scores) will differ depending on our personal preferences and beliefs. It is the pattern of 'scores' we see across each of the factors which provides an overall picture of our personality.
The factors and sub-factors measured by Facet5 are. . .
WILL
Determination
The inner drive to commit to own ideas
Confrontation
A drive to confront issues as they arise
Independence
A tendency to go your own way
ENERGY
Vitality
Obvious enthusiasm and energy
Sociability
Interest in being with people
Adaptability
Involving others in your thinking
AFFECTION
Altruism
Putting other people's interests first
Support
Always trying to be understanding
Trust
Tendency to take people at face value
CONTROL
Discipline
Being personally organised and planned
Responsibility
Being willing to take personal responsibility
EMOTIONALITY
Tension
A general sense of tension or stress
Apprehension
Being cautious and not over-optimistic
The Facet5 model
Facet5 is based on a simple, yet trusted, model of personality. Because of this, we are the personality tool of choice for many organisations.
Our robustness and credibility is what helps sets us apart and ensures not only are we valid and reliable but trusted.
BIG 5 THEORY OF PERSONALITY
Based on empirical, data driven research, the Big 5 theory of personality is recognised as the most reliable and valid way of measuring and describing personality. Facet5 measures these five factors precisely and quickly.
A TRAIT BASED / NORMATIVE TOOL
Personality traits are measured along a continuum rather than a forced dichotomy between one type or another. This is a more precise and meaningful approach which allows people to understand their personality in relation to others.
NATURAL LANGUAGE
Facet5 uses natural, everyday terms that people are familiar with and which are strengths based. This creates a common language for understanding and talking about behaviours – in comparison to other measures that use overly academic or a less balanced language.
EMOTIONALITY AS A LENS
Facet5 is the only model to apply Emotionality as an interpretive factor (a lens through which to view the other factors). Emotionality impacts how the other 4 factors 'show up' and this can create real lightbulb moments in people's self-awareness.
Validity & Reliability
We are truly committed to ensuring Facet5 does what it claims to do and that the insights we offer are of the very highest standard.
Our reliability and validation processes ensure that we maximise the accuracy and consistency of every measure, in order to guarantee that the results are dependable and applicable.
If you would like to learn more about our validation & reliability processes, you can request access to the documentation here – we're happy and proud to be able to share this with you.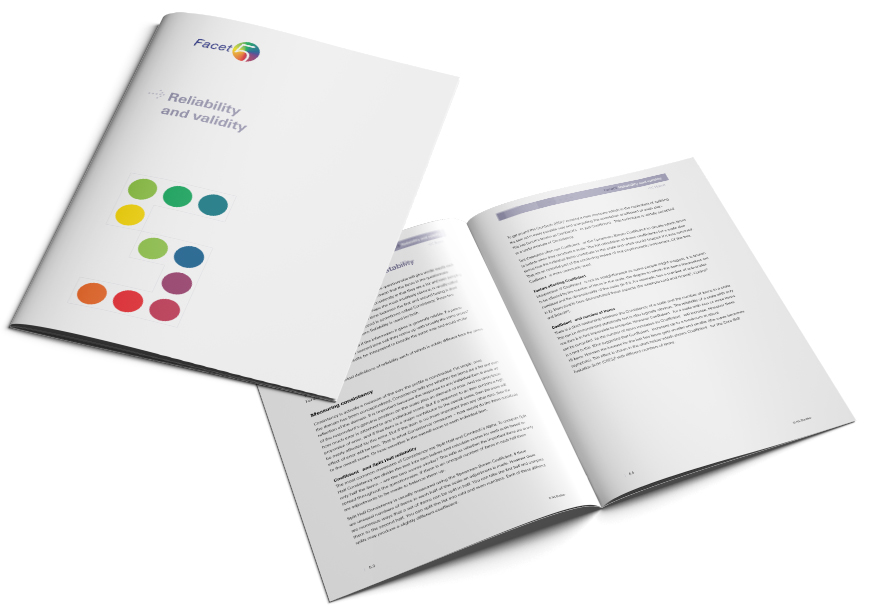 We are proud to be able to provide our clients with peace of mind that they have selected a rigorously assessed, psychological-based method by which to develop their employees. Facet5 is registered to the following industry-leading awarding bodies. . .